The Destroy The Monoliths Demo is Out Now!
Hello everyone!
I've very glad to share that a Demo is finally available for my new game Destroy The Monoliths! Please head to Steam and give it a shot!
I've been running a Playtest for a few months now but maybe you are new to the community and unfamiliar with the game so let's recap what this is all about! Let's also discover the brand new trailer!
Explore. Mine. Build. Fight.

Destroy The Monoliths is a single-player real-time mining tower offense roguelike where you explore a randomly generated map, mine the terrain to get resources, and build turrets to both protect your base and fight monoliths that keep spawning ever more minions.
What to expect in the Demo?
The Demo gives you access to the tutorial and an unlimited number of worlds. You however have access to a limited part of the content in terms of weapons available, buildings, relics, etc. More precisely, you can play with:
8 unique maps to explore and 7 different structures to discover
8 enemy types to defeat
8 weapons to have fun with to mine and fight
37 buildings to create your offensive and defense bases
62 relics to become more powerful and benefit from unique effects
Regarding the meta progression, part of the content is unlockable through various mini-objectives. The UI clearly indicates which items are available in the demo and which are only accessible in the full game.
The Demo build will be available at least until the full game release, currently planned for Q4 2023.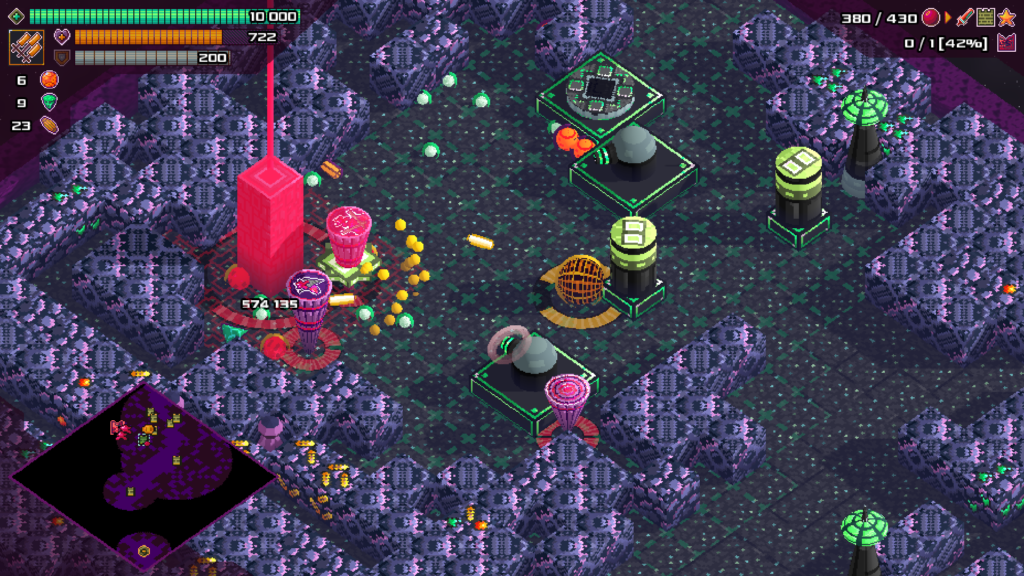 How to give feedback?
As a solo developer, feedback is super precious to me. You may encounter some bugs. Or you may think some mechanics would benefit from more refining or some content needs balancing. Please share your feedback with me! It helps me a lot to improve Destroy The Monoliths and make sure it delivers a fun and polished gaming experience!
There are two places to share feedback:
What is next?
My goal for the next few weeks is to continue adding content to the full game. I've made really good progress but still has to implement many buildings and relics. I'm also rounding up the OST that is nearly finished to have it available for sale at the same time as the full game.
Meanwhile, I plan to work on promoting the newly released Demo and reading your feedback! I've looking forward to talk with the community about the game. We are getting close to the end of v1.0 development and this is always a very exciting moment of the gamedev journey!
I'm including below the changelog of recent changes for those of you who were following the Playtest. It is quite short and consists mainly of improvements to the journal. But keep in mind I'm only including items related to the demo build. I'm actually adding a lot more under the hood that is not mentioned in the changelog. I hope you will like it once I share it all with you 😉
Also, the Playtest is obviously no longer available. Please now head to the public Demo build that replaces it. Progress and save data should transfer from the Playtest to the Demo build (contact me if you encounter any issue!).
Please give the demo a try and send me your feedback! Don't forget to also wishlist the game, it helps significantly to increase the visibility within the store! As always, thanks for reading, and see you very soon for the Dreamhack Beyond Summer Indie Showcase!
Changelog (Playtest v0.7c → Demo v0.7d)
Added
The HUD displays a quick notification when a new journal entry is unlocked
The journal emphasizes new entries until they are read
Many new achievements
Changes
Journal entries are sorted by alphabetical order
More icons in the journal entries to differentiate the different enemies and buildings types
Fixes