DevLog #19 – Improvements, Frost Update and Steam page – Alpha v0.6
Hello everyone!
It has been a while since last devlog and the release of the alpha version of Skycliffs. Today I am happy to release a free update to the alpha that contain many improvements and new game content. Also, the project now has a Steam page, please wishlist the game if you feel interested, it will be much appreciated!
Main improvements and changes overview
That being said, let's talk about the alpha update! First, I want to thank all people that gave precious feedback. I tried to address the major complaints as best as I could. In particular, I reworked the floor textures of Bluish forest and included more variations to have less noisy patterns.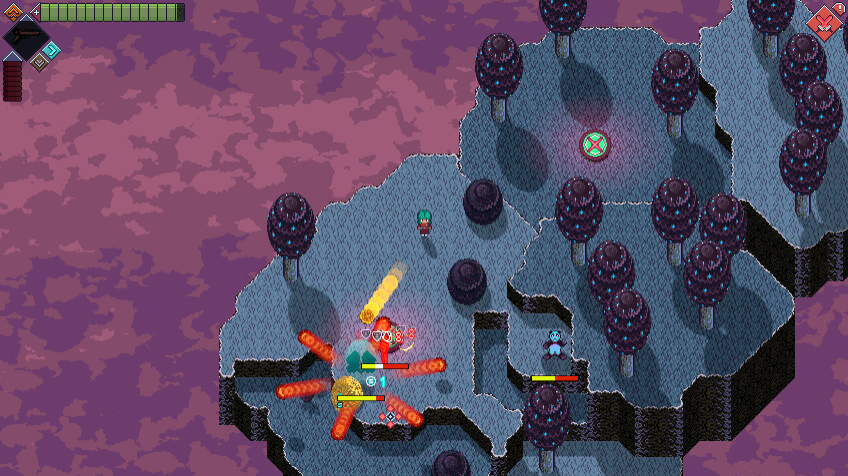 I also made a couple of mechanics changes. First, I removed the bullet types. The very limited number of types made it quite shallow and interesting. Instead of adding more types, I decided to delete the types and reintroduce some of the effects in items.
Then, I removed the choice monoliths and the money earning base on room clearing. I was trying to make something a bit different than most other roguelike with this system. I liked the trade-off between choosing better production or better gear, but it also have some drawbacks. For instance, you get the same earning no matter the amount of enemies in the room. I now opted for a more classical approach: enemy drops and NPCs. Rooms with many monsters yield more money, and harder enemies have increased drops. The merchant NPC appears at each level. Depending on the generation, you may meet other NPCs that offer optional challenges.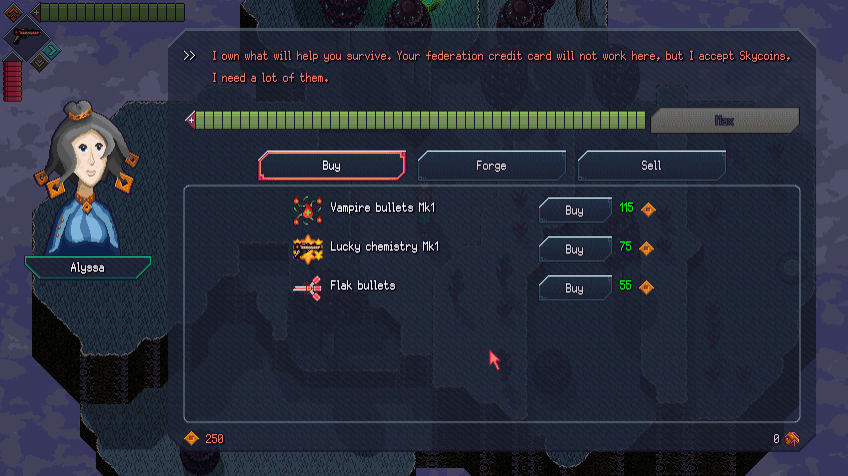 Finally, I worked on improving the HUD and the UI, and I'm quite happy with how it looks now.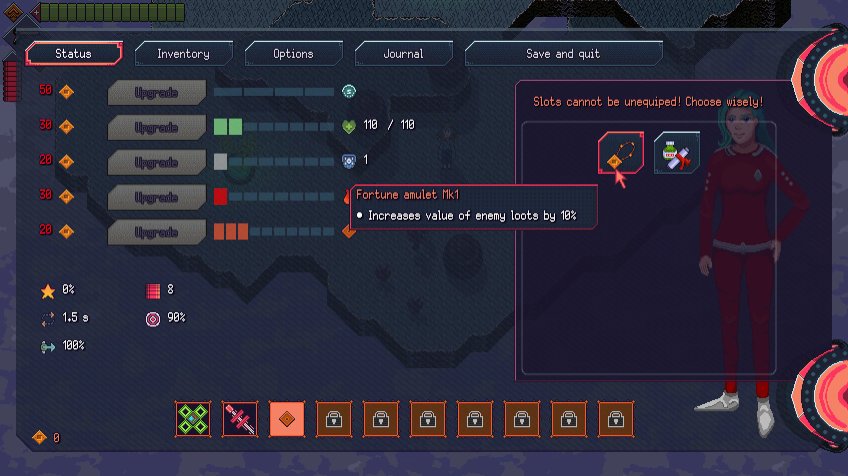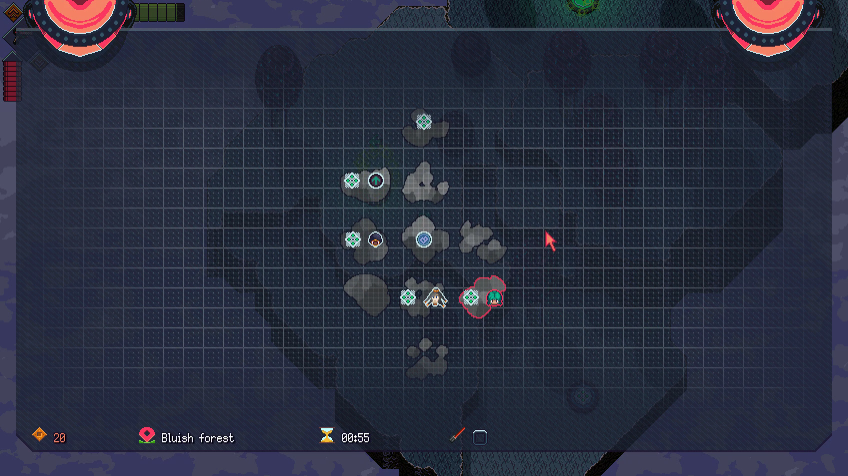 Welcome to Lunar ridge!
In addition to previous changes, I completed the second archipelago of Skycliffs, namely Lunar ridge. It now possesses its own unique set of enemies and traps. I also added 4 new weather events and 12 new items that you can encounter during a run, along with 2 new optional challenges. In the same vein as the racing challenge, they test your skills and offer risk/reward trade-offs. In some cases, you may simply waste some money, but in others, you way very well make the remainder of our run more dangerous…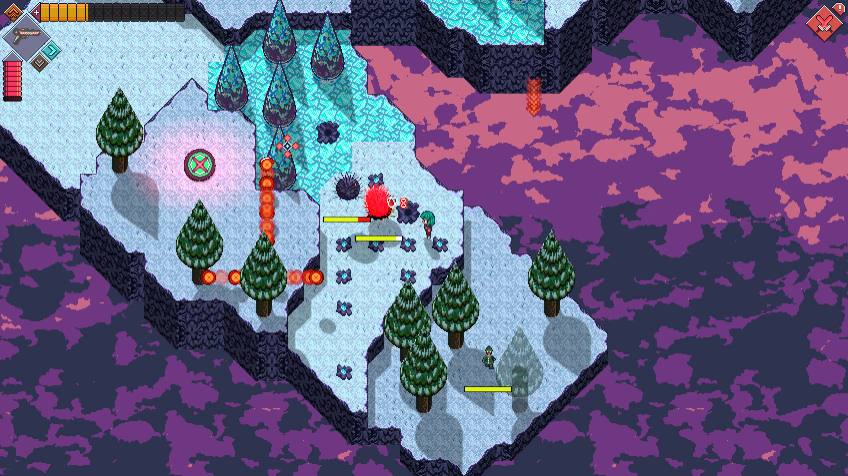 Finally, I added one of my favorite features of roguelike such as Enter the Gungeon or Spelunky: secrets! This update includes a quest that allows to reach a secret level. I won't spoil how it looks and what is contains, you'll have to go there and see yourself!
This is all for major changes. You will find a detailed changelog of v0.6 at the end of this post.
What's next?
Now that the Frost Update v0.6 is out, there still remains a few milestones before reaching version 1.0.
3 content milestones to add unique enemies and traps of the 3 last archipelagos, along with more weather events, items, optional challenges and secrets.
1 milestone to focus on adding some meta progression and enriching the journal
1 last milestone to polish things, fix remaining bugs and try to balance everything right as far as possible
I am targeting a v1.0 release for Q1 2023, and I'll do my best to keep the project on track to reach that goal and deliver a quality game.
Before ending this post, I want to give a few explanations why this blog has become quiet for the last few weeks. The reason is pretty simple: I am dedicating all my available time to actually work on Skycliffs. I do enjoy writing devlogs to share about the development process, but let's be honest: it takes a lot of time, especially for a solo dev. My primary focus is to finish the game and make it as fun and polished as possible. That's why I will likely post devlogs in the upcoming months only if I have important information to share or particularly cool stuff to show. But you can contact me at any time through the comment sections of this blog, reddit, the Steam community page or the contact form of this website, I'll be glad to read and answer your messages!
Thank you for reading this post, and please share any thought or feedback, it helps me greatly to improve the game. See you next time!
Full changelog (v0.6)
Improved textures of Bluish forest and Lunar ridge, and added more variations
Removed bullet types and reintroduced some of the effects in various items
Some islands can now spawn several waves of enemies
Enemies attack frequency gets reduced when there are many
Honey missiles trajectories now rely on physics and gravity
Removed money earning based on room clearing and added enemy drops instead
Removed choice monoliths and added NPCs instead
Help info in menus now displays in a hover tooltip instead of a fixed location
Re-looked HUD and all menus, and added open/close animations and sound effects
Item upgrade and sell costs now depend on the item level
Journal now displays the name of the place where last run ended
Added weather events to journal
Added 12 new equipment items
Added 4 new weather events
Added a new optional challenge related to weather events
Added 8 new enemies
Added 1 new trap
Added a new optional challenge related to shooting, always present in Bluish forest
Added a new quest leading to a new secret level
Optional challenges encountered are not generated again in the remainder of the run
Improved enemies movement performance
Improved bullets performance
Updated Lunar ridge soundtrack
Updated final boss Bluish forest and Lunar ridge arenas
Fixed many bugs